Online gambling – the fastest growing sector of the gambling industry
Internet gambling is not something new. It has been around since 1994 when the first online casino started its operations, followed by the first poker room in 1998.
Year after year online gambling has grown and expanded, becoming one of the most profitable sectors of the gambling industry. If 20 years ago punters could only gamble in land based casinos, bet shops and at local bookmakers, today the casual gambler has the option of betting online which presents several advantages.
Online gambling is more convenient than land based gambling since it allows players to wager from the comfort of their homes. A gambler could sit in his pajamas and bet live while watching sports on TV at 3 o'clock in the morning and his identity will be protected.
Another great advantage for gambling online is the rich variety of gambling products that can be accessed 24/7. Create an account with any online sportsbook and you will soon find out that at any given time there are at least 100 sports events in progress and each event provides dozens, even hundreds of bet markets. The same principle applies for online casinos, poker rooms and live casinos which offer non-stop gambling entertainment.
Online gambling is very accessible. The latest advancements in mobile technology have made it possible for bettors to gamble from any mobile device connected to the internet. Mobile gambling applications are in high demand right now since there are 4.5 billion mobile phone users worldwide and the mobile gambling sector is still expected to grow.
Profits in billions
The global gambling market has been estimated at $375 billion (gross win) in 2012 and is expected to reach $412 billion (gross win) in 2015. In 2012, online gambling accounted for 8% of the global gambling market with $25.5 billion in revenue and is estimated to reach $32.9 billion in 2015 as an increasing number of players choose to gamble using mobile gambling applications.
The online gambling sector incorporates various types of products. The most popular are:
Sports betting including live betting: bet on a wide range of sporting events from around the world pre-game or live during the event;
Casino games: all the popular casino games found in a land based casinos: Blackjack, American or European Roulette, Poker, Dice, Keno, video poker, themed slots, scratch cards, skill games and many more;
Poker room: poker network where players compete in cash games and tournaments with various formats and cash prizes;
Live casino: popular casino games broadcast live, in real time through video streaming;
Financial betting: trading on thousands of financial markets worldwide.
From the overall online gambling market, sports betting accounts for 53%, casino for 25.4%, poker for 14.2% and bingo for 7.4%. For 2015, sports betting market is estimated to grow to $16.4 billion, casino market to $8.82 billion and poker market to $2.47 billion.
Our company Start-Sportsbook is among the top 5 gambling software providers worldwide. We offer professional and affordable software solutions for all the above products. In addition, we provide a complete package with all the necessary services required by an online gambling business.
Challenges for starting an online sportsbook
Starting an online sportsbook is not an easy task and requires several components: stable and reliable sportsbook software, gambling license, sportsbook website, sports data feeds, advanced hosting capable of handling high amounts of traffic, payment gateways, customer support, branding and marketing.
As you can see, there are many aspects to consider if you are serious about starting an online sportsbook. This is why our company will offer its services to just a few partner operators that match a certain profile.  To those, we will provide the infrastructure, the know-how and all the necessary services required for running a successful online gambling business. Our company has 10+ years experience setting up gambling websites and we are proud to say that we know the business inside-out.
High revenue share
Below, we have compiled an approximate estimate for yearly revenue if you decide to start a sportsbook: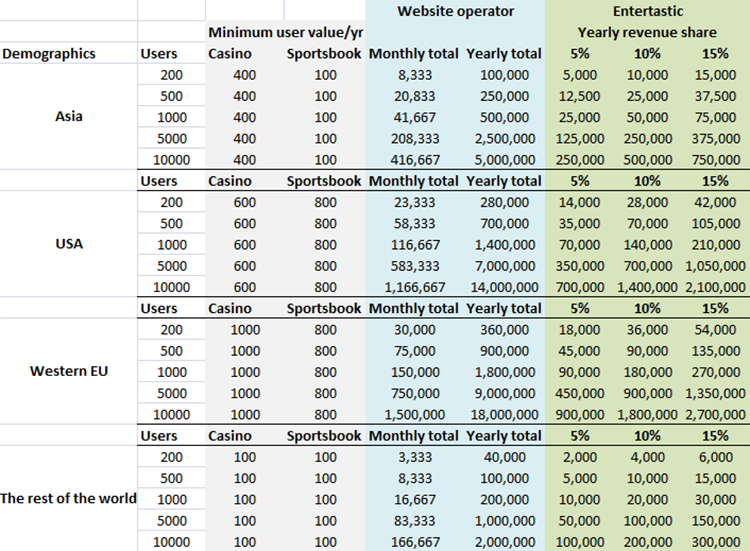 As you can see, in most regions you could recover your initial investment with only 200 registered users which is really not that difficult to accomplish. Just check the numbers if your sportsbook gathers 1000 or 5000 users. Now we are talking millions!